This site uses cookies. By continuing to use this site, you are agreeing to our use of cookies.

Learn More.
I got a little bored this afternoon and decided to give some skins away, crazy right?
To enter, simply comment on this post with the required details, its that easy.​
Entries will close in 2 hours - from the posting of this thread
random.org will generate 3 numbers, your comment number is your entry number
One entry per person per house, you cannot enter using another steam account.
Your forum account must have been created before 2017
If you created your forum account this year, you cannot enter, sorry.
If you cannot follow these rules and you enter twice, you will be removed from entry.
Winners will recieve a trade request from myself, your profile must be setup to accept this.
3 winners will recieve one skin each
1st Drawn
- Dark Flames AK47
2nd Drawn
- Base Invaders SAP
3rd Drawn
- Great War Service Rifle
Good luck to all entries!
​
Quarterly Server Updates.
Hi all, this is the first post of our new quarterly server updates. In these updates, we will be updating you with what is going on in the community, any upcoming events, server issues and any announcements. We would like to cover the patches every wipe but I think the likes of Shadowfrax and the Devblog have it covered for you.
Hacking Increase,
Did that get your attention? Well that's how many hackers we have banned since December.
As most of you would be aware there is a new hack available (surprise!) and some not so clever people like to use it on our servers.
Rest assured, you will be caught and I promise you will be EAC/Game banned if we catch you.
SO! What is the best thing can you do other than not hacking?
Well the best thing to do is report a hacker via Rustralasia.net and then via F7 in game.
you can report the hackers on the server by simply filling out a hack report at
http://rustralasia.net/index.php?applicationform/report-player.2/form
We are working on making this process easier for you, but once that is submitted all the Admins are alerted to their mobile devices and are able to get on and check if they are not already on. Every report gets checked, nothing is left unturned.
You can still use the report a hacker in game by hitting F7 however that report takes longer to reach us, and may be too late to ban. So be sure you report on the website first.
Server Performance.
The admins are all finally picking up the last of the pieces from the infamous DDOS attacks which brought down a lot of moral and caused extreme amounts of inconvenience but would like to think its now in the past. Moving forwards, we migrated the servers across to a new provider, allowing us to strengthen our protection and security to ensure the server uptime is as high as possible. However, with the good comes the bad and we have had a run of hardware and power issues on the provider's end causing downtimes especially on low pop server. This isn't to say we aren't getting DDOS attacks anymore, as we are usually getting attacks daily, just not on the scale we were before.
Here is a look at our firewalls filtering incoming attacks recently.
We were able to source a lag issue on main server in regard to the way the RCON (rust console) reports its information. So, we have opted to make a temporary change to maximize performance until a viable solution can be put into place.
The TeamSpeak is back up for those in need of assistance or wanting to make use of the public channels (limited) be sure to visit us on
ts.rustralasia.net
if you need help if the forums just don't satisfy your deepest rust needs.
Savas Island.
Savas island map is going live in the coming weeks allowing the community a new play style for mid-week gaming. Unfortunately something has to give and this time its "The North" which to much dismay will not be returning to your dirty screens any time soon. Savas gets PVP back to basics and offers more skills than raw numbers or firepower. If you want to check it out be sure to watch Rusty Pirates video here :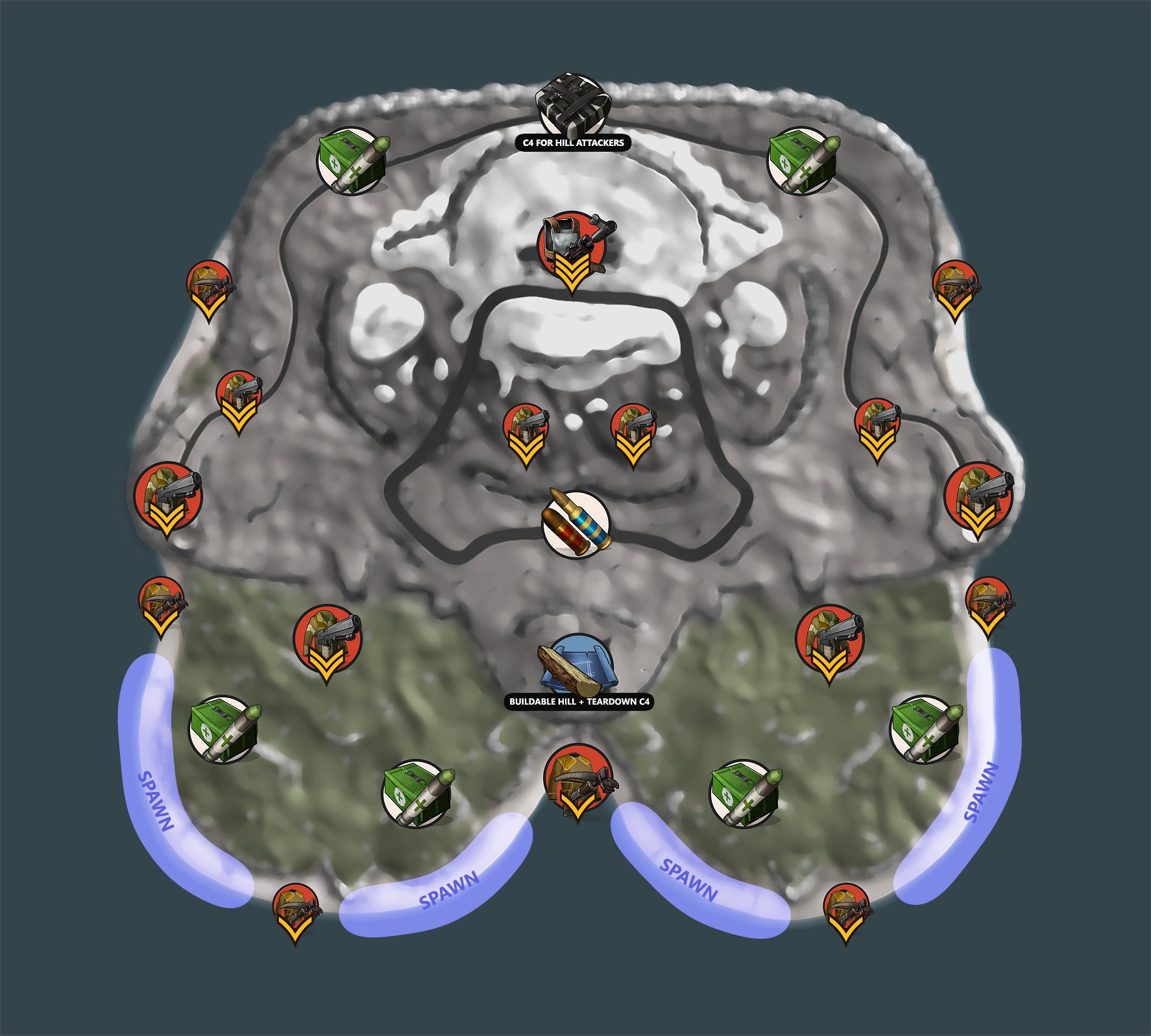 Community Art Competitions.
Get out the brushes and your finest paints as there is ART to be made people! We will be judging a FREE to enter event on selected wipes and we ask members of the community to submit their best in game artwork for the wipe. If you're not first. Your're last. So only a first place will be awarded, the prizes consist of steam credit or rust skins. So, keep your eyes out for posts on server specific member forums for details. The prizes aren't big, but it's just a bit of fun, and for the love of rust please all original Artwork, no Rustangelo or programmed entries and
keep it civil.


screenshot courtesy of SailorMoon
Enjoy your server time, and please let us know any feedback on the forums. Thanks for all the support from all members and players. Enjoy!
The Rustralasia Team
Note from the admins
To all of Rustralasia,
My name is Raziel and I would like to talk to everyone about what has been going on. Over the past sometime our servers have been under several cyber attacks.
These attacks have been targeted at our server; just as Blizzard entertainment was attacked in September 2016 with what is called a Distributed Denial of Service Attack (DDOS). The attacks typically involve malicious actors sending huge amounts of traffic to overwhelm and disable a targeted system.
Now our host did have what is called DDOS Mitigation and was doing a very good job at filtering the attacks, but then an attack started that began to bypass the DDOS mitigation attack the servers game port with Fake connections and bad packets. It was only after much investigation that I was able to discover this. But not only were they attacking us with these attacks, They were hitting us with all kinds of attacks. From what is known as slow loris attacks, Ack Storm, DDOS and Several other attacks. Now the only way to stop the attacks that were bypassing mitigation is to have deep packet filtering.
Now these attacks are usually launched by what is called a botnet. Which is bunch of computers that are like zombies. In fact a computer, server or data centre could be sending out attacks but not be even aware if their security is not up to date, because that is how a botnet works.
Now during the attacks we were forced to setup temporary Slot Servers with Streamline Servers, as soon as we went over the attacks followed and the guys at Streamline enabled extra security measures to help.
Now these slot servers are not meant to handle the traffic load that we have had and Through the generosity of Streamline servers we have managed to secure a dedicated server behind their DDOS mitigation and firewalls.
What we are doing to improve performance
We have also purchased 2 other Dedicated server boxes through another company and have been tweaking the security over the past while to try and prevent these attacks as much as possible. On the other 2 boxes we have DDOS mitigation and 2 firewalls, One with Deep Packet Filtering to help prevent these attacks.
Now over this week Main Server will be put on one box, Low pop Server on another box and Hapis and The North Server on the third box with the team speak.
So I just want to let you all know that we are working on trying to provide you with a better gaming experience.
When will we see improvements to the servers?
On the morning of 13/3 (tomorrow) about 7 AM AEST we will be migrating to the new dedicated boxes in which the current server data will be transferred and you will see huge improvements to gameplay performance.
New admins coming onboard to improve your gameplay experience
On other news I would like to introduce you to 2 of our newest Admin/Moderators to the team.
Please show them respect as they help all of us. They have been doing a great job at moderating the forums and administrating lowpop, hapis, barren and The North.
Now let us look unto the future and continue to grow Rustralasia together as community and a team.
Congratulations to the winners of the Event Survival of the Fittest.
​
Again we would like to thank all of our sponsors : - MWAVE, Brunt force Truama, Vertiigo Gaming, Rizza Gaming and TheMarex86. And everyone who helped us with the event.
A massive thank you to everyone who supported the Rustralasia community tonight and participated in our first ever official event. We had a bit of a rocky start with a couple of technical difficulties but it ended up being a really fun event with some really good players. The results will be posted as soon as possible after each account is verified and the scores have been counted. Videos of the event will be making their way to YouTube from Vertiigo vision and also the official Rustralasia edit from our own footage.
In the mean time here are a few screenies!
Rustralasia Main Server is Back online under community section
Rustralasia official events are kicking off this month with the first event set to take place on February 22nd. The event's prizes have been graciously donated by
Australasia's largest online tech retailer Mwave.com.au.
https://www.mwave.com.au/
The Rustralasia team has been working closely with our other proud sponsors
Vertiigo, Brunt Force Trauma and Rizza Gaming
to ensure the events are truly a spectacle in the rust world you do not want to miss out on!
The first event to be held is "Survival of the Fittest". Prizes are awarded from 1st place right through to 10th place so what have you got to lose? Be sure to get in quick grab a slot and defend your Rust honour!
1st - $100 Mwave card
2nd - $50 Mwave card
3rd - $20 Mwave card
4th-10th - $5 Mwave card
Be quick there are only 30 slots available! Be sure to check Terms and Conditions prior to entry.
http://rustralasia.net/threads/terms-and-conditions.4495/

BUY IT NOW

http://rustralasiaathp.net/cart.php?gid=4
We have been very busy getting an official event ready.
Even caught RAZ sleeping on the job!

Can you guess who the major sponsor of the event is?...
Dear Rustralasia Player,

We have just did some backend update to our skip the queue program. What has changed?

You don't need to look for your steam 64 bit id or your website anymore.

What you will need to do.

You need to connect your steam account in order for the skip the queue to work from now on. You can do this by clicking on the button that says "login with steam" in the top left of your account page.

Kind Regards

Rustralasia Team
The host believe they have resolved the performance problem, If you are still experiencing very bad performance please follow instructions below.
Hey Rustralasian's if you are currently experiencing very poor performance on our server or if you have been forced to play on a vpn to join our servers. We would really like some information so we can start to rectify these problems,
1. Open Steam
2. Click on Library
3. Right Click on Rust and left click properties
4. click on local files tab up the top
5. Click on browse local files
6. double click on rust client data
7. Open output_log and copy all the information and please send it to Raz staff member on these forums or you can email
[email protected]
8. Next Open Command Prompt as Administrator
9. type "tracert 221.121.144.171" into the black box and press enter
10. Copy the information from the command prompt
11. Paste the information in an email to
[email protected]
or send to Raz.
12. repeat step 8
13. type "tracert 221.121.148.99" into the black box and press enter
14. copy the information from the command prompt
15. Paste the information in an email to
[email protected]
or send to Raz.
This information is going to help us with many different problems that have been occurring. The more people that give us this information the better we will be able to get a better picture of what is going on.
Thank you to all.